NEW !! HuMo-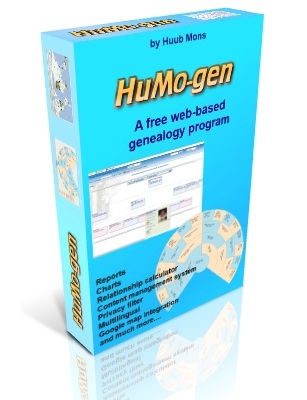 gen 5.2.1 is out! (December 29, 2017)
This version includes new features and improvements.

Previous versions that were released in the last year also added: bulk adding families, mobile adaptivity, a Slovac, Canadian, Danish, Russian, Hungarian and Traditional Chinese interface, an improved mobile interface, dragging features, RTF export of ancestor and descendant reports, DNA charts, extended marital relation calculator that will find any connection between two people, even across multiple marriages, appending notes to persons in the database, hourglass chart, batch import of Gedcom files, visitor registration, additional PDF reports, layout improvements and display options, an automatically adjusted interface for smartphones, an automatic update procedure, totally revised editor screens,the "Favorite" feature to store your favorite families, an improved privacy filter and adoption editing, an exiting new feature: a built-in CMS (Content Management System) that allows you to design your own beautiful web pages from within HuMo-gen, an elaborate backup and restore feature, a totally revised and sophisticated new source system, merging of gedcom files, exporting part of trees to gedcom, importing geocodes from gedcom files and much more.
All these in addition to the rich set of features that HuMo-gen has been offering for years! Learn about all HuMo-gen's features with the "Features" tab above.
What does HuMo-gen offer you? 
HuMo-gen is a free, open-source and multilingual server-side program that makes it very easy to publish your genealogical data on the internet as a dynamic and searchable family tree website.
HuMo-gen was created and is being constantly developed by Huub Mons in the Netherlands and all credits for this wonderful program go to him. If you are Dutch-speaking, please visit Huub's site instead. This English website is brought to you by Yossi Beck and aims at the international public. For a brief note you can contact me through the contact button on the top menu. For assistance with the installation and use of Humo-gen, please join the English Forum.
HuMo-gen is classified as a Gedcom to PHP program. This means it knows to take a Gedcom file (files that can be created and exported by all major genealogy programs) and convert it to PHP files, that display dynamic webpages on the internet.
No more tedious creation of separate ancestor or descendant reports and uploading them to the web after every alteration or update of your data. Now you just upload one updated Gedcom file, read it in - and your website is updated and ready. Your end-users can create their own descendant, ancestor and outline reports from any person in the database!
It is now also possible to create your tree from a scratch in HuMo-gen, without importing Gedcom files from other, PC-based programs. Since version 4.8.2 HuMo-gen has its own CMS (Content Management System) that you can use to create your own web pages, with information about your research, background information and of course your self-designed front page.

Other assets of HuMo-gen:
Free - HuMo-gen is distributed under GNU-GPL license. No costs attached, no spyware or malware included. With the "Download" tab on the top menu you can download HuMo-gen from either this site or from Cnet.com.
(If for security reasons you prefer to download from a renowned download site, you can use the latter option to download HuMo-gen from Cnet).
Open-source - The program files are written in PHP and if necessary may be adjusted for personal needs by anyone with some knowledge of that programming language.  The CSS outlay of all parts of HuMo-gen can be easily adjusted to your liking and taste!
Multi-lingual - HuMo-gen offers an English, French, German, Dutch, Danish, Spanish, Portuguese, Italian, Finnish, Norwegian, Russian, Hungarian, Simplified and Traditional Chinese and Hebrew end-user and administrator interface (chosen by the end-user). 
New languages can be added with less than an hour of work!
Easy - Installation requires no knowledge of computer languages and is adequately explained in a concise and clear online wiki manual. Any questions will be promptly answered on the support forum.
Dynamic - Any person in the entire database may be used as the base person for extensive genealogical reports (no need to create endless reports and put them separately on the web!)
Searchable - You can search for a specific person or create search reports for a given period or place.
For a more detailed description of features choose the "Features" tab on the top menu! 
Press the "Manual" tab on the top menu to read or download the HuMo-gen PDF manual with extensive explanations on how to install and configure HuMo-gen.